What kind of leader are you?
As a leader, do you put out fires all day when you should be focused on the bigger picture. Where do you feel most comfortable in your role as a leader? Would you rather be doing something, or would you rather have the time to plan and strategize?
At AFPD, we have discovered that the fundamental levels of leadership are comprised of two things: Each of these elements is essential, but they are distinctly different in nature.
Thought Time involves understanding the areas of attention that are most important to success, and making effective decisions out of those thoughts. Focus Thought Time on the wrong areas and effective decision-making becomes difficult.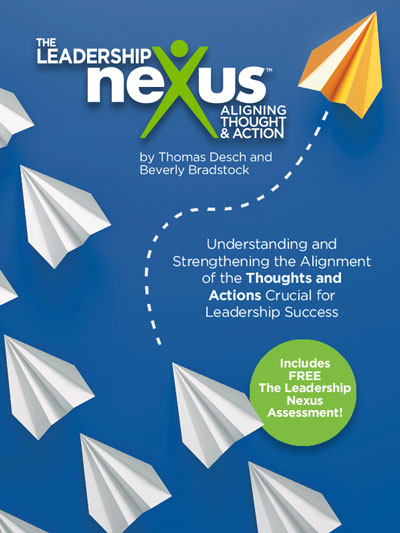 Action Time includes what consumes our time, and how we act on our priorities. The nexus of thought and action provides an innovative, actionable approach to leadership and to to develop it more effectively.
The coming together of these two ideas is what spurned us on to development of the The Leadership Nexus™.
This groundbreaking approach to leadership examines how "thought time" is related to "action". From entry-level managers to high-level executives, The Leadership Nexus™ helps leaders of all types function at their highest levels of expertise and ensures that work is getting done at the right level, by the right people, at the right time.
Use The Leadership Nexus™ as the starting point for your individual leadership development, or use the instrument to jump-start the developmental process for your team.
Begin your leadership development journey by purchasing The Leadership Nexus™ ebook available at Amazon that includes a Leadership Nexus™ assessment.